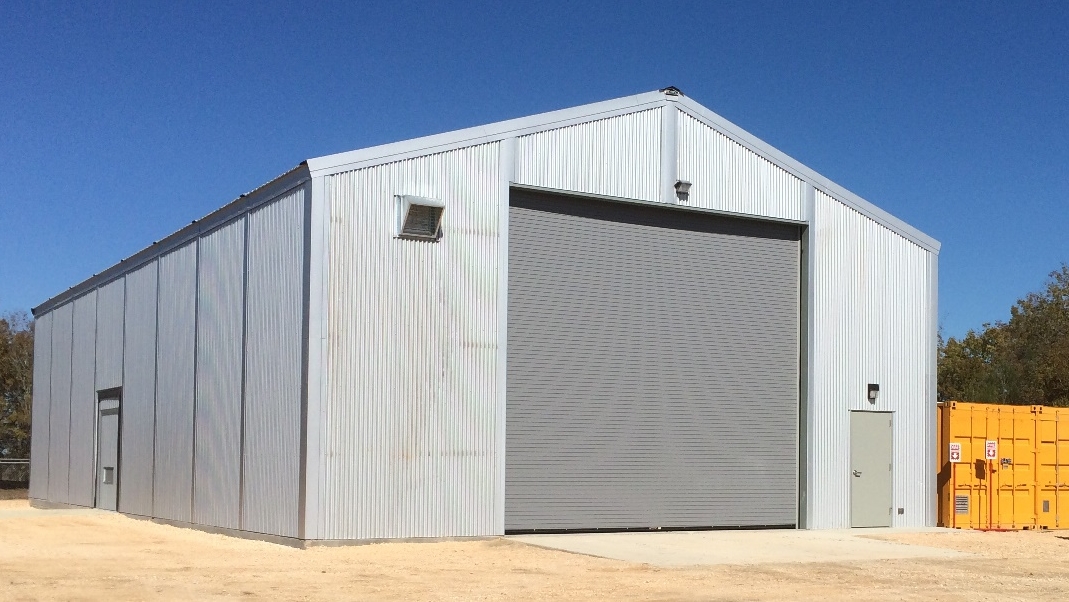 THE OLYMPIC FOLDING BUILDING IS THE BEST VALUE AND LOWEST LIFE CYCLE COST IN A COMPLETE RELOCATABLE BUILDING PACKAGE.
See how the Olympic Folding Building will change the way you operate on site. We provide complete solutions to simplify and expedite your project.
Delivers lower overall install cost on initial deployment
Allows for full recovery of electrical system, saving time and money during relocation
Reduces time to install onsite by factor of 10
Factory testing ensures a working system, ready to site connect
cULus listed assemblies provide inspectors with peace of mind
One Call for a Complete Solution
A single source for design and integration of building system, foundation, electrical/mechanical systems and accessories
Patented panelized system adapts to your needs
Logistics and planning for dependable delivery
Experienced support through installation and future relocation
Engineered for What You Do
Standard design for deployment in most North American locations
Custom designs for extreme seismic, snow and wind conditions
Constructed of rugged components with a field proven service for life of 40+ years
Customized sizes and layouts that fit your operation
Fabrication
Site construction is underway during factory production
Factory assembly in controlled environment with intensive quality assurance
Factory integration of multiple complex systems into simple field installed components
Delivery
Consolidated packaging and staged deliveries to simplify site logistics
Coordination of transportation resources
Arrangements with brokers and customs
Special logistics for difficult to access sites
Installation
Folding sections and prefabricated panels install in days, not weeks
Powered Structures, patent pending panelized plug & play wiring system minimizes field wiring
Detailed erection instructions simplify work planning and preparation of JSA/JHA documents
Engineered erection sequence allows safe installation in harsh environments
Best Value in a Relocatable Building
All the benefits of a permanent structure with the flexibility of a relocatable asset
Qualifies for accelerated depreciation for potential tax benefits
Your investment pays for itself on second deployment
High residual value through ease of recovery for relocation or resale
Value
When you choose an Olympic Folding Building, you are investing in a proven, systematic approach that assures success—from the time you place your order through delivery and installation to the relocation of your asset to the next site.
*Supply includes building systems (structural, exterior cladding, flashing, insulation system, interior metal liner, doors, equipment doors, mechanical penetrations and anchors) and electrical systems (wiring, boxes, devices, and equipment for a complete installation of lights (32 ea. LED fixtures, night light, exit lights, exterior wall packs), convenience power, door operators, ceiling fans, and exhaust fan. (Heat is not included in this example.)) A recurring supply cost is factored in the traditional site built supply to replace damaged or non-reusable building and electrical components between 1st and 2nd deployments, a full resupply is assumed for the 3rd deployment for traditional construction.
**Installation assumes $80/hr. labor rate for building installation and $100/hr. electrical rate working safely in an industrial environment. Rate assumes work force and equipment costs. Site work, general conditions, equipment and crane costs are not included in this example.
Standard Sizes
The Olympic Folding Building has standard sizes with reduced lead times to suit many applications; custom sizes can accommodate unique conditions, enclose specific processes or shelter the largest equipment.
ISOUP - Sidewall framed opening and plug for ISO container access
Eave mounted snow retention system
Personnel door canopies
High speed service doors
Custom colors
Rope openings and "doghouses"
Modular footings and floor system
Engineering support for foundation design, special conditions and integration with existing structures
Spreader bar and rigging
Powered Structures
plug & play lighting and simple connections make deployment and relocation quick and easy.
Packaged Building Solutions
Proven layouts and features make these ready to order solutions perfect for your next project.
Maintenance Shops
Maintenance shops feature large equipment access doors, high head room, enhanced heating and ventilation packages, maintenance friendly lighting layouts, ISOUP - ISO container utility plugs and integrated ceiling mounted fall arrest systems. Building clearances are based on common site equipment. Inquire about the best building for your project needs.
Warehouses
Warehouses feature basic lights, heat and power packages designed with simplicity and ease of installation in mind. With several width options and the ability to add building length as your project demands change, our packaged warehouses offer a flexible solution that moves and grows with your business.
Consider the Olympic Folding Building for these specialized applications:

onsite equipment maintenance operations
hoist and winch houses
process enclosures
generator shelters
helicopter or light aircraft hangars
mezzanine and demising walls for mixed use
onsite fabrication facilities
Call (425) 482-4422 or fill out the form below to get started